Main Content Starts Here, tab to start navigating
Slide 1 of 7
Slide 2 of 7
Slide 3 of 7
Slide 4 of 7
Slide 5 of 7
Slide 6 of 7
Slide 7 of 7
Welcome!
My name is Drew Blanckenberg, Partner & Executive Chef of Cricket Cafe & Catering.
Located in Waltham, Cricket Cafe & Catering offers an array of catering options,
including casual corporate dining, high-end corporate dining, & off-site catering.
Beyond Cricket Cafe & Catering, I am also the personal chef for one of Boston's top business entrepreneurs.
Additionally, I have had the unique opportunity to compete on the Food Network program Cutthroat Kitchen.
Throughout my career, I've cooked alongside a number of top chefs, gaining invaluable experience from them.
My team at Cricket Cafe & Catering is outstanding -
we have over 20 years of experience in high-end catering for the professional Boston elite.
Whether your event is for breakfast, lunch, or dinner, on-site or off, small or large, let Cricket Cafe & Catering handle all your catering needs.
Our humble beginnings
Founded in 2013, Cricket Cafe & Catering began as a simple corporate breakfast and lunchtime cafeteria in Waltham, Massachusetts. As Head Chef Drew Blanckenberg's cooking skills continued to gain praise from his loyal customers, an opportunity for expansion was quickly recognized. Come September 2017, Cricket Cafe & Catering will be transitioning into a brand-new, luxurious venue with a full-service bar & dinner service, but will continue to offer gourmet meals and catering services at a reasonable price.
Stay tuned!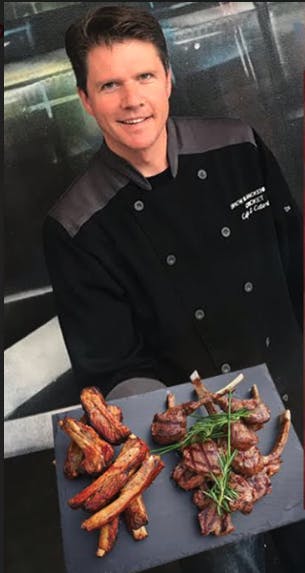 For all inquiries, please fill out the form below and we'll be in touch soon.
Send us a message and we'll get back to you as soon as possible.
You can also reach us by phone at (508) 958-8373.
Looking forward to hearing from you!
Reviews
★★★★★5.0 stars
Kimberly
in Southborough, MA
Food was great! We got the Greek Chicken, Mediterranean Platter & the Impossible Burgers - which were seasoned nicely & tasted just like beef - better than a lot of burgers I've had actually. The people are very nice to work with.
★★★★★5.0 stars
Kathleen
in Westborough, MA
Wanda (the delivery person) was wonderful, and the food was delicious. An overall pleasant experience - on-time delivery, and a wonderful luncheon.
★★★★★5.0 stars
Darlene
in Framingham, MA
Absolutely perfect! Our first time ordering from Cricket Cafe and we will definitely be using them again. Food was delivered early, driver was very nice and answered the few questions I had. Ordered the Sandwich Platter with assorted sandwiches for 30 people and I had no leftovers! Food was delicious and looked great!On top of all that, they reached out to after the meal was over just to make sure we were satisfied and we were.
★★★★★5.0 stars
about 1 month ago
Heidi
in Framingham, MA
Beautiful presentation and delicious food. Highly recommend and will use again!
★★★★★5.0 stars
16 days ago
Elizabeth
in Boston, MA (different store)
Cricket Cafe & Catering called me directly the evening before to ask about dietary restrictions and to confirm the order. I loved that they did this and it really added a person touch.
★★★★★5.0 stars
about 2 months ago
Angela
in Wellesley, MA
A fantastic lunch again today. I typically order the Greek chicken which is never disappointing always flavorful and tender. My office was so excited to have lunch from Cricket Cafe office loved everything. It is one of my go to for lunch!